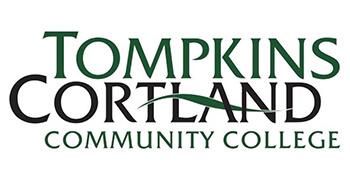 Paralegal Programs at Tompkins Cortland Community College
Tompkins Cortland Community College appears in our ranking of the 50 Most Affordable Online Paralegal Degree Programs.
Tompkins Cortland Community College offers an Associate of Applied Science (A.A.S.) Paralegal degree program for future legal assistants. The college can pair students with a career coach who will talk with them about what the job entails and some of the jobs they can get with this degree. Career coaches are available in fields that include title examiners, paralegals, title searchers, and legal assistants. The program also helps students meet the requirements to transfer to another branch of the State University of New York college or university, including those in Canton and Cortland.
Students in the full degree program take 63 credits. Most of those courses go over the areas of law where they can work when they graduate, but others help students develop the skills required of paralegals. They will do a paralegal internship and take a paralegal seminar. Other courses include Family Law and Domestic Relations, Legal Research and Drafting, Real Estate and Property Law and Wills, Trusts and Estate Planning. The college also offers a paralegal certificate program that includes 32 credits of courses. Students take two years to complete the degree program or one year to finish the certificate program. Both of these programs are available over the web and on the Tompkins Cortland Community College campus.
About Tompkins Cortland Community College
Tompkins Cortland Community College is a community college and part of the State University of New York (SUNY) system. Established in 1967, the founders of the college chose Groton and initially offered classes there when the college opened the following year. Just six years later, the college moved to Dryden, New York. That new campus provided the college with more room to grow and for the large number of students who would later enroll. Also called TCCC, it spent millions of dollars in 2007 to renovate the campus and bring it up to date. Those renovations included a new athletic complex and new resources for the campus library, including books and software.
As part of the SUNY system, the college provides students with access to the Smart Track program offered by that system. This program teaches students how to financially plan for their futures, including how to create and follow a budget and what to look for when taking out credit cards. Though most of the TCCC students come from cities in New York, students from other states in New England and across the country can also enroll.
The college added its first residence halls in 1999 and slowly increased the number of dorms over the years. Thousands of students now live on-campus in apartments that let them share bedrooms, kitchens and living spaces with their peers. The college now offers associate degree programs and has a concurrent enrollment program that allows students in local high schools to take classes. Those programs helped enrollment climb to more than 2,300 students.
Tompkins Cortland Community College Accreditation Details
The Middle States Commission on Higher Education (MSCHE) awarded accreditation to TCCC the first time that the college applied. TCCC maintained its accreditation because of the review committee that is responsible for checking on the standards for that accreditation. Students attending the college can transfer the credits they earn when they move to a bachelor's program and get financial aid each year at the school. The community college also has accreditation from the Accreditation Commission for Education in Nursing (ACEN) and approval from the New York Board of Regents for its nursing programs.
Tompkins Cortland Community College Application Requirements
With a rolling admissions policy and no application fee, TCCC allows students to easily apply. The college encourages students to sign up for a campus tour to get a look at some of the resources it offers. This tour also lets students explore the library and other facilities and meet with paralegal majors. There is a paper application that students can print off and complete at home before submitting, though they can also use the college's online application. Most students can complete the application in less than 20 minutes. They will also need to arrange for their past schools to send the college their transcripts. TCCC accepts electronic records and paper transcripts.
As the college does not have set admissions requirements, students can apply while still in high school or once they have a GED or diploma. They will also need to provide their immunization records and the FAFSA when applying for financial aid. If the student applies to the online paralegal program, the college will not require immunization records. Students can submit an ACT or SAT score and skip the placement test requirement, but all other students must take this exam. It helps the college place them into specific subject areas. Once students complete the college's orientation, they can register for classes. TCCC does not have an enrollment deposit but does ask students to pay a housing deposit before the semester starts.
Tuition and Financial Aid
As TCCC is a community college, it offers affordable rates for local students who want to attend college. All New York residents pay the college's in-state tuition rate, which comes to $2,550 per semester for full-time students. Students also pay $635 per semester in fees. On-campus housing is available for $5,150 per term, which includes both room and board. Students who put down their housing deposits by July 1 and December 1 each term will qualify for a $500 discount each semester. The nonresident rate charged by the university applies to students from outside of New York. This rate comes to $5,520 per semester. Nonresidents are also responsible for fees and their room and board packages.
TCCC offers financial aid packages for any student who successfully files the FAFSA and uses the right school code on that form. The Roslyn Kaner Paralegal Scholarship awards $500 to students enrolled in the college's paralegal program full-time or part-time. Students who maintain a B grade point average in the program can get this scholarship over four full semesters. Other scholarships offered by the college go to students in other majors and those who show need and/or merit. The FAFSA qualifies students for financial aid in the form of student employment, grants, and loans. Paralegal majors attending Tompkins Cortland Community College can work for the college and make more than minimum wage.