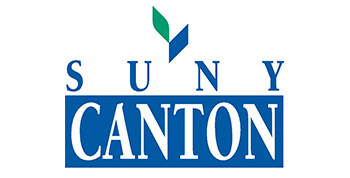 Three SUNY Canton Pathways to Legal Work
SUNY Canton appears in our ranking of the Top 10 Best Value Online Bachelor's Degrees in Paralegal Studies.
Since 2008, the Canton School of Business & Liberal Arts in MacArthur Hall has conferred the SUNY System's only Legal Studies B.S. for nearly 100 undergrads to better understand the frameworks of jurisprudence for ethical law practices. Coordinated by Dr. Jondavid DeLong, the 122-credit degree ranked sixth by Affordable Colleges Online gives 24/7 access to Blackboard courses like Information Literacy, Constitutional Law, and Trial Court Procedure at an 18:1 student-professor ratio. Satisfying CLP certification, the four-year online curriculum culminates with 15-week internships, such as the Onondaga County District Attorney's Office, Legal Aid Society, Conboy Law Firm, and Nash & Palm Law Office.
Shorter study times are possible in the Paralegal A.A.S. Transfer track from Jefferson Community College. Headed by Dr. Larry Covell, this 61-credit associate sequence counts Watertown classes like Legal Research and Civil Litigation for only two years remaining.
SUNY Canton also started a 3+3 Program with the University at Buffalo School of Law that saves one year's $16,650 tuition. The three-year Juris Doctor led by Dr. Aviva Abramovsky in O'Brian Hall trains attorneys in eight concentrations, including Family, Sports, and Criminal Law.
About SUNY Canton
SUNY Canton originated in 1906 when Universalist Church leaders at St. Lawrence University added a two-year North Country branch called the School of Agriculture for STEM training. In 1948, the State University of New York system chaired by Owen D. Young acquired it. Renamed the SUNY Agricultural & Technical College at Canton, it outgrew the original Park Street location in 1960. The next year, 49th Governor Nelson Rockefeller officially broke ground on its 555-acre campus donated by Edson Martin near Adirondack State Park.
Coeducational since 1966, Canton ATC reached record-high enrollment and opened the first Word Processing Center during Dr. Earl MacArthur's 1970s tenure. In 1987, it adopted the official name of SUNY College of Technology at Canton. Two decades later, SUNY Canton achieved its largest fundraising campaign ever worth $11.3 million. Dedicated to "Great Majors, Great Careers," Canton now employs 195 faculty teaching 3,550 Roos, including Legal Studies B.S. students, online and on-site with 35+ campus organizations like Phi Theta Kappa.
SUNY Canton was ranked America's 88th best online undergrad college by the U.S. News & World Report, 410th most diverse school on Niche, and 75th most popular legal studies program on College Factual.
SUNY Canton Accreditation Details
On June 1, 2018, the Middle States Commission on Higher Education (MSCHE) received the Periodic Review Report from SUNY Canton to monitor the 14 Standards of Excellence and keep Level II accreditation current through 2023 under Provost Douglas M. Schedit, Ph.D., who earned the Margaret Sanger Certificate of Appreciation. Headquartered 384 miles south via Interstate 476 in Philly, this elite eight-territory Mid-Atlantic accreditor is authorized by the U.S. Education Department to judge Federal Title-IV eligibility for Canton's 21 associate, 28 baccalaureate, and five certificate offerings from the Adirondacks to the Internet. The School of Business & Liberal Arts received candidacy status from the International Assembly for Collegiate Business Education (IACBE) on May 30, 2017. The 3+3 Program with the University at Buffalo's School of Law was approved by the American Bar Association (ABA) in 2018.
SUNY Canton Application Requirements
Getting into SUNY Canton is classified "less selective" by the U.S. News & World Report though only 79 percent of the 2,673 Fall 2017 applicants were triumphant. First-year Roos hopping into the Online Legal Studies B.S. must complete a New York Regents' diploma or another state's college-prep equivalent. Freshmen need minimum Regents Exam scores of 70 for Math and 75 for English. The General Equivalency Diploma is only recognized with 2450 marks (245 for old scoring) and higher. Maintaining secondary GPAs above 2.0 is required, but the median is 3.1. Undergrads traditionally fall into the ACT range of 17-22 or SAT range of 800-1030. Second-language English speakers also need at least 44 PTE, 3.5 iTEP, or 500 TOEFL scores. SUNY Jefferson's Paralegal A.A.S. Transfer option requires cumulative 2.0 GPAs in 61 credits from English Composition to Property Law. The 3+3 Accelerated JD with Buffalo only suits high-achieving seniors with 3.5 GPAs or better in 90 undergrad credits. School of Law entrants from 26 countries report a median 153 LSAT score.
SUNY Canton has easy rolling admission year-round with preferential dates of April 1st for Fall and November 1st for Spring starts. Hopeful Paralegal A.A.S. Transfer students meet Jefferson Community College deadlines of August 11th and January 11th respectively. The UB Law School Admission Council considers 3+3 Program cohorts until February 1st of their junior year. Access the SUNY Application Service Center to submit the $50 form online. Official high school and college transcripts are processed to Miller Center at 34 Cornell Drive in Canton, NY 13617. Standardized testing reports are generated with ACT code 2912 or SAT code 2523. Additional documents include the Regents diploma, GED certificate, immunization record, 250-word personal essay, English fluency verification, and transfer evaluation. Ask program-specific questions at (315) 386-7517 or delongj@canton.edu.
Tuition and Financial Aid
Effective August 2018, SUNY Canton published annual four-year tuition of $6,870 for New Yorkers and $16,650 for non-residents. Campus students pay $1,759 comprehensive fees, including the $188 parking fee, $105 activities fee, and $177 technology fee. Medical insurance costs $825 to $1,096 per semester. Living at the Tug Hill campus' housing like Mohawk Hall adds $3,800 to $5,550 by term. Standard meal plans for Chaney Dining Center are $2,600. Canton budgets $650 for books, $800 for transport, and $500 for incidental expenses. Annual traditional attendance equals 23,885 in-state and $28,075 out-of-state. Online Legal Studies B.S. courses bill New Yorkers $286 and non-residents $343 per credit though. The 120-credit total ranges from $34,320 to $41,160. Advancing into the UB School of Law 3+3 Program would cost significantly more at $25,410 to $50,335 per year.
The NCES College Navigator reports the Financial Aid Office in Dana Hall connects 93 percent of incoming SUNY Canton Roos to median assistance of $8,159 for $5.01 million overall. Institutional awards include the Albert E. French Endowed Scholarship, Amber Lynne Mote Scholarship, Barr-Raymo Endowed Scholarship, Brad Winters Annual Scholarship, Catherine Wells Hart Memorial Scholarship, Dr. Jonathan Gueverra Endowed Scholarship, Grasse River Educational Scholarship, Hahn-Kalberer Endowed Scholarship, Myrna Thomas Scholarship, Richard C. King Endowed Scholarship, and William C. Cooper Scholarship. The Presidential Scholars Program gifts $5,000 yearly to freshmen meeting minimum 94 averages and 1270 SAT scores. Since 2017, the NYS Excelsior Scholarship has voided Canton tuition for students taking 12+ credits who have a household income below $110,000. Other state-based aid like the Tuition Assistance Program, Part-Time TAP, Veterans Tuition Award, and Academic Excellence Scholarship apply. Submitting FAFSA applications by June 30th unlocks Federal Pell Grant, SEOG Grant, Work-Study, and Direct Loan resources. Also search for paralegal programs, such as the Florence E. Jenkins Scholarship, Lambda Epsilon Chi Scholarship, and PACE Scholarship.
Find more about SUNY Canton at the Legal Studies Department website.