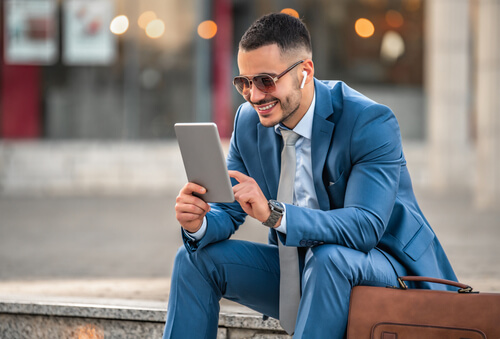 5 Helpful Apps Paralegals Should Be Using
Westlaw or LexisNexis
Clio
Rev
Court Days
Evernote
As technological solutions become more integrated into law firms of all sizes and specializations, good apps for paralegals to use need to be considered. Paralegals do much of the work behind the scenes at a law firm and need to have the right resources at their fingertips to help them succeed. There are many useful apps to choose from, but here are some of the most recommended.
Related resource: 50 Most Affordable Online Paralegal Degree Programs
1. Westlaw or LexisNexis
Westlaw and LexisNexis are the two largest digital legal research databases available and most firms use one or the other. They are considered the gold standard of legal research and most paralegals are taught how to use them in their training programs. Both services offer a mobile app so it should go without saying that they are among the most useful apps for paralegals who need to conduct legal research on the go. Both Westlaw and LexisNexis have information on thousands of court cases as well as texts of federal and state laws.
2. Clio
Clio is one of the most widely-used and popular law firm management software options available. It comes with a mobile app, so paralegals working at firms that use it should have the app installed. Perhaps the most useful feature of this app for paralegals specifically is its ability to track time spent on various tasks and projects for billing purposes. Paralegals involved in the administration of a law firm in any capacity, such as by sending invoices, scheduling and managing cases are likely to find this app even more useful.
3. Rev
Voice recording is a tool paralegals may use every day in the course of their work, so having a reliable mobile app that can do this is often a must. Rev, also a transcription service and serving many legal clients, offers a free voice recording app that can help paralegals organize their thoughts, record their interviews and more. Paralegals can also order transcription services from Rev directly through the app with ease. Files can be shared easily through e-mail and text messages as well as with connected apps such as Slack, Evernote, and Dropbox.
4. Court Days
Legal processes strictly revolve around dates and missing one can be a catastrophic error. Fortunately, the app Court Days was developed to help make this aspect of being a paralegal much easier. With it, paralegals can not only record important court days and due dates so they are not missed but also confirm at a glance how many days are before, after or between any given dates. The major downside of this app is that it is for the iPhone only, so users of Android or other devices will need to find an alternative.
5. Evernote
Evernote is a general note-taking app heavily used throughout the business world, but it is useful to paralegals specifically as well. It allows professionals to take written notes, scan documents and business cards, make annotations and organize all of it into designated notebooks. One of its most useful features for paralegals is its ability to capture and save clippings from the Web, which helps paralegals organize research and investigative findings. It also offers unparalleled connectivity to other apps and sharing between accounts.
Both law firms and the paralegals who work at them need to be on the same page regarding app usage so cases can come together more quickly and efficiently. By focusing on the most useful apps for paralegals, both aspiring and currently-working legal professionals can hone the right technical skills.