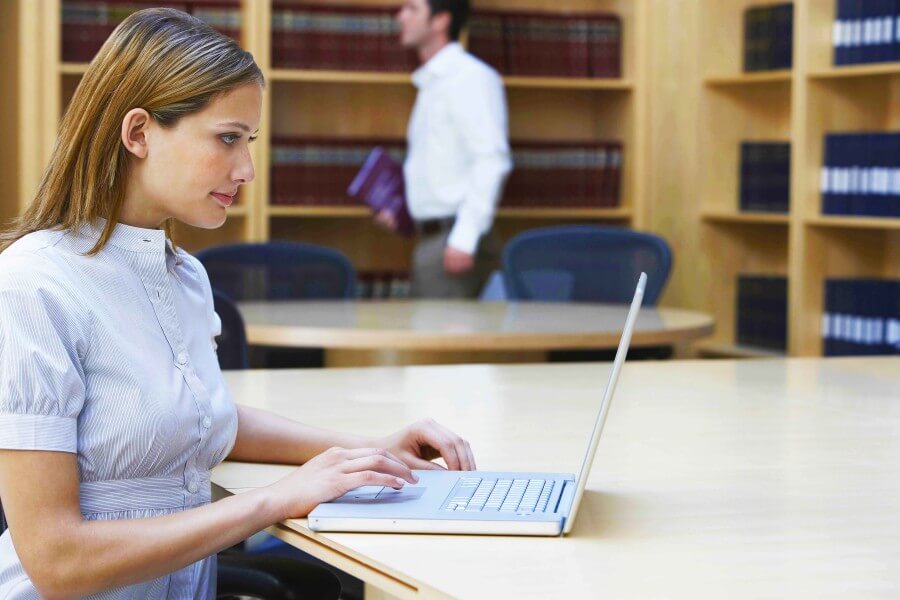 Paralegal careers offer a range of specific positions like working for a law firm, government office or nonprofit organization. You can concentrate on criminal or corporate law or other legal specialties such as personal injury, tax or family law. The training and education required vary by legal specialty, practice type, region of the country and other variables. According to the Bureau of Labor Statistics, median pay for paralegals averaged $48,350 annually or $23.24 per hour in 2014.
You can qualify for a paralegal career in only two years, but getting a job with a desirable firm depends more on your post-school options. These five tips will help you find your first paralegal job:
1. Network Aggressively
Lawyers network aggressively to find clients in a process commonly called rainmaking, and since you're working in the legal profession, networking is important for showcasing your tenacity and legal savvy. Create profiles on the top social sites including LinkedIn, Facebook, Twitter and Google+. Be sure to include any relevant office skills, writing experience, internships, education and organizational memberships.
An important part of networking is joining local and national organizations — especially paralegal associations like the National Federation of Paralegal Associations. As a paralegal, you can also join the American Bar Association and other national, state and local paralegal organizations.
2. Develop Technology Skills
Paralegals often function as de facto office managers for the lawyers with whom they work, so developing computer literacy and familiarity with legal software, accounting systems and electronic databases for researching legal issues could be a big advantage. Depending on which legal speciality you prefer, other skills and certifications that you might pursue include these résumé builders:
American Alliance Certified Paralegal or AACP
Professional Paralegal or PP
Document Preparer or LDP
CORE Registered Paralegal or CRP
Advanced Certified Paralegal or ACP
Registered Paralegal or RP
The entry-level certifications for paralegals are Certified Paralegal (CP) and Certified Legal Assistant (CLA). Although certifications aren't required, they can bolster your qualifications and give you an edge in the competitive paralegal and legal assistant fields.
3. Research the Art of Researching
Research skills are critical for every paralegal job because you're often expected to look up old cases that establish precedents, work for multiple lawyers with different levels of case participation and organize your findings in files and notes to submit to lawyers or clients. You need to develop critical thinking skills to determine what's germane to a case and what is noncritical information. Like reporters and academics, knowing what information is reliable and what must be confirmed through corroborating sources is critical. You can develop research skills through formal education and by participating in debates, organizing information into brief reports and becoming familiar with legal resources online and in libraries.
4. Find an Internship
If your college or university offers a semester's credit for participating in an internship program, take advantage of the opportunity to work in a legal office. Most schools, however, don't offer credit for internships in an associate degree program, so it's up to you mail your résumé to local attorneys, departments of justice and city or county prosecutors. Include a cover letter to explain that you're seeking to gain experience by working for free or college credit. You might want to put some research into finding an internship with the right firm or organization because unpaid or paid internships can and often do turn into full-time paid positions.
5. Advertise Your Services
Your networking efforts will bear fruit faster if you actually advertise that you're looking for a job to let employers find you. Faster communications mean that employers can fill positions quickly by checking their files and online resources for résumés or looking for qualified paralegals. You can advertise your services by posting your résumé on job sites, advertising directly in classified advertising forums like Craigslist and networking through your LinkedIn and other social media accounts and contacts.
One interesting option is to offer paralegal services directly to companies and consumers. Lawyers charge $150 per hour and up, but they often bill full price even when paralegals do all the work. You could hire yourself out as an independent paralegal, but there are strict limits about what you can do when not directly working for an attorney.
You can qualify for a paralegal career with an associate degree, but getting more education and paralegal certifications makes your résumé more attractive to those employers who offer better salaries and more challenging positions. Paralegal career opportunities are expected to grow in the immediate future because the demand for paralegals comes from law firms, independent attorneys, consumers, consultants, nonprofit organizations, corporations and government agencies.