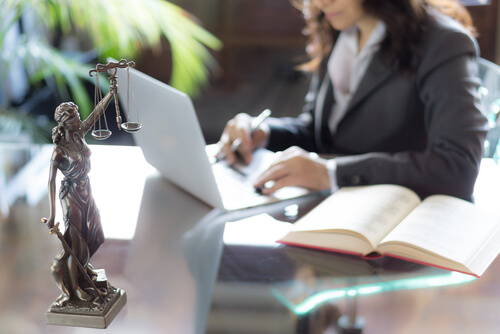 If you are considering a career in the legal profession, you may be wondering what are the highest paying jobs. It's no secret that lawyers have the potential to make quite a lot of money. But did you know court reporters, paralegals, and even forensic computer analysts are also among some of the highest paying legal jobs? Keep scrolling for our list of the year's 15 highest paying jobs in the legal profession. 
1. Lawyer
$85,733
Perhaps not surprisingly, lawyers top our list of the highest paid legal professionals. But the job description of "lawyer" varies greatly, and different specializations rake in varying amounts. For example, bankruptcy lawyers average around $65,000 per year. Corporate lawyers make about $111,000 per year. Meanwhile, intellectual property lawyers average a whopping $129,400 per year! 
2. Legal Nurse Consultant
$78,302
Legal Nurse Consultants must have a strong working knowledge of both the medical field and law. For that, they rank as the second highest paid in the legal profession. Usually employed by insurance companies, legal nurse consultants are tasked with making recommendations about health records, instructing people about potential causality and risk, and maintaining records for legal purposes. 
3. Judge
$76,149
Judges (known also as magistrates or magistrate judges) typically have the final say when it comes to determining whether someone or something has followed or broken the law. Typically, judges oversee hearings, small claims cases, misdemeanor trials, and cases involving municipal law. Some judges, namely trial court judges, average an incredible $143,000 per year, though they also preside over cases with much higher stakes. 
4. Forensic Computer Analyst
$74,262
For those intrigued by both computer science and the legal field, this is the third highest paid legal job: forensic computer analyst. The main job of a forensic computer analyst is processing large amounts of data to find specific items or actions for forensic evidence. They work in an office setting, and are frequently hired by lawyers to find and analyze evidence that can be either supportive or incriminating. 
5. Law Firm Administrator
$74,258
Like practice administrators in the medical field, law firm administrators are responsible for the day-to-day activities in a legal office. Typical tasks include managing specific budgets, ensuring all office roles are properly staffed, and overseeing vendors and vendor contracts. Law firm administrators are required to have excellent organization skills, as a lot depends upon them. They're paid well. The average salary for a law firm administrator is just over $74,000 per year. 
6. Litigation Support Specialist
$61,111
Legal services companies large and small usually have at least one litigation support specialist on hand. These professionals are tasked with collecting and storing all information related to litigation. Not surprisingly, they are expected to be extremely organized, as documents multiply rapidly. The average annual salary for a litigation support specialist is just over $61,000 per year. 
7. Contract Administrator
$61,034
Contracts are some of the most important documents that hold businesses and relationships together, so it shouldn't be too surprising that contract administrators are some of the highest paid pros in the legal world. Contract administrators are responsible for overseeing the specific mandates in a contract. They ensure all named parties fulfill their contractual obligations fully and to the law. For this, they average about $61,000 per year.  
8. Mediator
$60,544
Mediators act as a third party in order to help resolve legal disputes between two or more people or groups. Some mediators specialize in family law, such as custody or divorce cases. Others are more general. Whatever the case, it is the mediator's job to try to avoid a trial by negotiating in a neutral and non-biased manner. According to PayScale, mediators make an average of $60,544 per year.  
9. Court Administrator
$57,524
Court administrators oversee the operation of a courthouse. Responsibilities are many and include the courthouse budget and maintenance, plus the organization of court cases. Specific responsibilities include writing and submitting reports, scheduling repairs, and managing other staff. 
10. Legal Secretary
$55,489
Legal secretaries are employed by individual lawyers, whole law firms, or a courthouse. Their responsibilities include performing secretarial duties such as filing materials, maintaining appointments, and communicating with a lawyer's clients. Legal secretaries typically have a degree in a legal field, though this is not always necessary. Excellent typing and communication skills are, however, not negotiable. Legal secretaries typically make about $55,000 per year. 
11. Conflicts Analyst
$54,970
Those eager for a fast-paced, high-stakes legal job should consider the role of conflicts analyst. For about $55,000 per year, conflicts analysts analyze potential conflict points in prospective cases or clientele, maintain an in-house legal database, and draft summaries of their analysis. 
12. Court Reporter
$50,593
A court reporter is the official recorder of anything that happens in a courtroom. They're required to attend all court sessions, and to create written transcripts of spoken communications. Time spent at a technical school to learn typed shorthand is a must for this job. On average, court reporters make about $51,000 a year. 
13. Paralegal
$48,911
Paralegals are employed by courts, law firms, and the legal departments at big corporations. They have a number of responsibilities including filing materials like motions and pleadings, conducting legal research, and accompanying lawyers to court. Paralegals are often the first person a client meets and interviews with. The salary range of a paralegal varies quite dramatically, but averages to be just under $49,000 per year. 
14. Judicial Clerk
$48,744
Judicial clerks are usually recent law school graduates. Because becoming a judge requires an extensive resume full of impressive accomplishments, aspiring judges often take on the role of judicial clerk. Tasks include conducting legal research and submitting legal writing. Though they're certain to make more in the future, judicial clerks make about $49,000 annually. 
15. Title Examiner
$47,295
Rounding out our list of the highest paid legal jobs is title examiner. Title examiners may be employed by any number of organizations, including law firms, banks, and real estate companies. They are tasked with researching property titles and publicly maintained records to determine who owns a property, and whether or not any restrictions have been placed upon it. Title examiners are typically paid hourly, and make an average of $47,300 per year. 
By OPD Staff
January 2021
Related Rankings: 
30 Great Free Online Courses for Paralegals 
Top 10 Best Value Online Bachelor's Degrees in Paralegal Studies