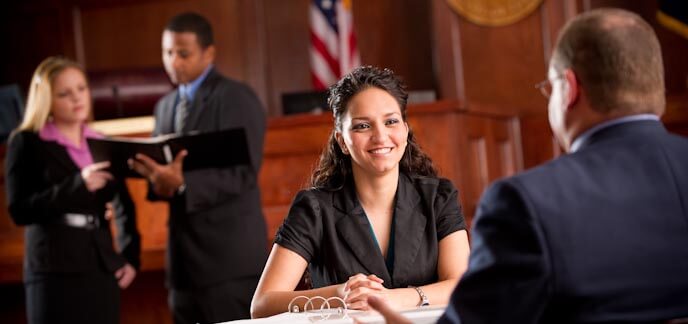 According to the Bureau of Labor Statistics, the paralegal profession is expected to grow at a rate that is faster than average, and the many networking opportunities for paralegal students help these future legal professionals to find the position that is right for them.
Paralegals assist lawyers with meetings and case preparation by conducting research and writing legal documents. While these legal professionals do not have to be licensed, they usually need to complete at least an associate level degree program to be considered qualified for most paralegal positions.
Here are some popular ways that paralegal students can start laying the foundations for professional relationships that can last throughout their careers.
School Sponsored Internships and Experiential Learning Projects
Many paralegal degree programs include opportunities for students to network with industry professionals through unique experiential learning projects. These customized learning initiatives sometimes include consulting projects with law firms that allow students to get feedback from seasoned lawyers and other legal professionals.
Some schools' paralegal programs match students to paid or unpaid internships at local law offices where students can gain work experience as well as professional contacts for future full time employment. When schools do not formally facilitate internships, students can independently search online and in person for positions with law offices. If paralegal students do well during these opportunities, they can usually count on recommendation letters if not actual employment offers from the firms for which they worked as students.
Student Associations and Clubs
Paralegal students should not fail to recognize the value of networking with their peers in student organizations. Paralegal students can range in age and professional experience, and they can be excellent resources for everything from locating scholarships to identifying potential mentors in the profession.
Resource: The 19 Cheapest ABA Approved Online Paralegal Programs
Besides honing interpersonal and leadership skills, paralegal students who participate in student clubs form relationships with people who can help them find employment later in their careers. Nearly everyone wants to work with their friends and people with whom they have good professional relationships, and the digital age allows these people to stay connected like no other time in history. Subsequently, some former classmates and student association members find themselves working together at large, successful law offices that employ multiple paralegals.
Student organizations serve to expose paralegal students to detailed aspects of legal administration, but they do not learn these skills on their own. Faculty advisors or other industry experts usually guide the clubs' activities, and these people generally have a number of industry contacts that can help the group meet its mission, vision and objectives.
Professional Associations
Professional associations are key sources of networking opportunities for paralegals and paralegal students. For example, the National Association of Legal Assistants (NALA) and the National Federation of Paralegal Associations (NFPA) sponsor conferences, work shops and other events that serve as networking opportunities for their members.
These organizations are involved in setting the professional standards for the career field so the events that they sponsor are especially relevant and attract industry leaders from across the nation. Both NALA and NFPA offer student memberships to paralegal scholars who are currently enrolled in academic paralegal programs.
Conclusion
Networking is not an intuitive activity for many people, and they benefit greatly from resources within academia and industry that can help them to hone this important skill. Aspiring paralegals find that one of the best ways to nurture their budding careers is by taking advantage of networking opportunities for paralegal students.