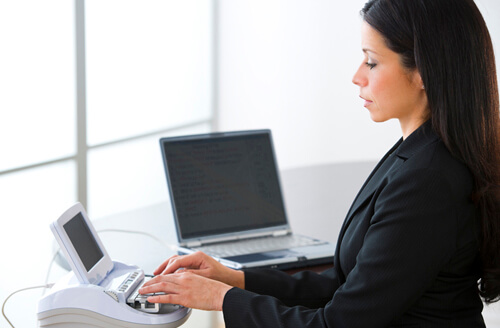 Becoming a court reporter may take more time than you expect. Though some think this is a job that you can get right out of high school, most states require that reporters have a college degree and that they seek certification from one of the top agencies in the country. Court reporters are responsible for ensuring that the court record is valid and truthful. They must listen and keep records of everything said and done within a proceeding without using any type of personal bias. To work in this field, you must complete all the required steps.
Attend a Training Program
The first step you must take before working as a court reporter is the attendance of a training program in your area. Many of these programs are available through community colleges. Depending on where you live, your city may offer a training program through a vocational school. High school students can often enroll in these schools and earn an associate's degree at the same time that they earn a high school diploma. These programs teach you about the terminology you will hear in the courtroom and how to use machines like a stenotype machine to record the proceedings. It can take up to five years to finish a court reporting program.
Develop Appropriate Skills
Court reporters generally have a unique set of skills that help them on the job. If you do not have those skills yourself, you will have a hard time sticking with the job and finding employment. You must have the ability to concentrate on tasks and listen to others. The ability to multitask is also helpful because you need to record what others say at the same time that you listen to multiple people talk. Other skills that reporters have include decision making skills, strong writing skills and time management skills.
Get Certified
Becoming a court reporter generally requires that you have certification as well. Some organizations require that professional reporters have a college degree before taking a licensing examination. The National Court Reporters Association is one of the largest of those professional organizations and lets you get certified to work in more than 20 different states. You can also apply for certification from other organizations like the American Association of Electronic Reporters and Technicians. Many of these agencies require that you renew your license or certification every few years and that you take additional examinations in the future to ensure you possess the right skills.
On the Job Training
According to the Bureau of Labor Statistics, the median salary for court reporters is nearly $50,000 a year. Though you have the potential to make even more, you must go through on the job training before working as a court reporter. This training period can last anywhere from a few weeks to six months or longer. Courts use this period as a way to judge your skills and ensure that you can handle all the things you'll do on the job. Some on the job training programs require that you shadow a current reporter for a few weeks too.
A court reporter is one of the most important people working in a courtroom. That individual is responsible for keeping track of everything that occurs during the proceedings. Becoming a court reporter requires that you attend a training program and obtain certification or a license.
You may also like: 50 Most Affordable Online Paralegal Degree Programs