The answer to "do paralegals work from home?" is: "It depends." Most of these legal professionals work in an office environment with occasional travel. However, many choose to become freelancers and thus work from home, in addition to the paralegals who normally work in an office but occasionally do work from home. Here are the various work environments that are realistic for a paralegal to expect.
Related resource: The 19 Cheapest ABA Approved Online Paralegal Programs
Most Work In Offices
Most paralegals do not typically work from home. They work in the offices of law firms, government organizations, and private corporations during regular business hours. Due to the nature of this profession, however, overtime, night and weekend hours may be required to complete work, especially when deadlines are approaching or the firm is involved in a major case. Occasional travel might be required as well. Reasons may include investigative work or going to a trial. Working from a centralized location most of the time happens in this profession for a reason: paralegals are part of cohesive legal teams that need to work together effectively to provide the best services and outcomes for their clients. As paralegals are not attorneys, they need a licensed attorney to sign off on much of the work they do.
May Have The Option To Work From Home
More employers are beginning to understand the benefits of allowing employees to work from home for both themselves and their employees. Even though it is relatively rare for a paralegal to be hired full-time by a traditional law firm solely for remote work, the option of working from home some of the time might be available. Much of a paralegal's work, such as drafting legal documents, performing legal research and corresponding with clients can easily be done from home. Team messaging apps make it easier for paralegals to remain in contact with the rest of the team while working remotely as well.
Some Jobs Are Purely Remote
Although uncommon, there are paralegal positions that are entirely remote. These can be full-time but are usually part-time or on a temporary basis. Law firms typically need the part-time or temporary help of paralegals when they have especially heavy caseloads and need extra workers but can't justify the cost of hiring someone to work in-house. FlexJobs claims that telecommuting paralegal work is becoming more common as law firms try to keep costs down while still being able to handle large caseloads. Individuals with paralegal training can find good work online as legal transcriptionists, which unlike other transcription jobs require specialized knowledge of legal terminology.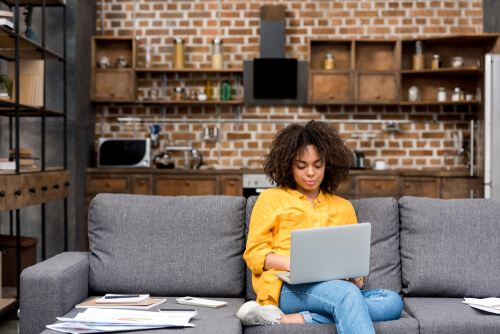 Freelance Paralegals
Thanks to improved technology, the rising gig economy and the needs of many employers to have paralegal help only some of the time, there has been a growing number of paralegals working on a freelance basis. To be successful as a freelance paralegal, paralegals usually need to have prior experience and a track record of success as a legal professional. Law firms are interested in outsourcing some of their work but due to the sensitive nature of their cases, they want to be sure they are working with qualified professionals. It is important for freelance paralegals to remember that they are not attorneys and are thus not allowed to do certain tasks such as giving legal advice. Do paralegals work from home? Some of them do full-time with their own established businesses that provide paralegal services.
Paralegals are legal assistants who do much of the same work as attorneys. Because they are not attorneys themselves they work for attorneys rather than directly for clients. Hopefully, the answer to do paralegals work from home is now a little clearer.