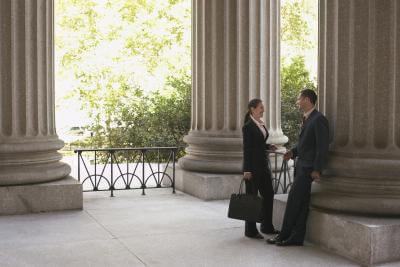 Many people find themselves at work in a courthouse, ranging from judges and attorneys with their law degrees to bailiffs and law enforcement officers and their possible criminal justice degrees. Those with paralegal degrees can also easily and often find themselves at work in courthouses, either directly or as part of other kinds of work that they do.
About Paralegal Training
The United States Bureau of Labor Statistics (BLS) notes that the work of paralegals—assisting lawyers in file oversight, legal research and document generation—is typically facilitated by an associate's (two-year) degree or non-degree certificate in paralegal studies. (The latter is usually awarded to those who have other college degrees already and who want to supplement their formal education.) Some colleges and universities offer baccalaureate paralegal degrees, as well. Generally, then, a paralegal will have been taught not only basic argumentative writing and the general cultural backgrounds from which understandings of law and the morality law is supposed to reinforce derive, but also the specific authorities and discursive practices convincing in courts of law.
Paralegal Courthouse Jobs
As a paralegal or legal assistant will work with attorneys, and governments at the federal, state and local levels employ attorneys in their courts, some paralegals will work in a courthouse as a primary function. The BLS notes that just under 15 percent of paralegals work in such circumstances, employed by governmental agencies—including the courts themselves. Helping judges and public attorneys research documents and precedents or prepare and present case materials come to mind as the kind of courthouse work many paralegals can expect to carry out if they are among the close to three in twenty who will work in government.
The BLS also notes that larger companies may find it more economical to maintain legal departments than to hire attorneys on a case-by-case basis, citing such departments as one likely avenue of employment for paralegals. Large companies do not seldom find themselves in courts of various kinds, meaning that paralegals who work in private enterprise may also find themselves called upon to work in courthouses part of the time.
The most common kind of employment for a paralegal is in legal services, according to the BLS, meaning that most paralegals work for lawyers in private practice. This means that most paralegals have some chance of working in a courthouse as part of a legal team, since the work of attorneys takes them to courthouses often, and they commonly rely upon the help of their paralegals while they are in the courtroom. Further, since paralegals may also be called upon to carry out some of the more mundane legal tasks, they may need to work in courthouses from time to time to carry out such duties as handling wills and contracts. Smaller law firms and firms in smaller communities are more likely to offer such experience to paralegals, as paralegals in those circumstances will more commonly be called upon to be generalists than their counterparts in larger cities and firms, where population densities allow for greater specialization.
It is possible, of course, that an individual paralegal will not set foot in a courthouse in a professional capacity. But it is far more likely that each paralegal will work in a courthouse from time to time, with some doing so far more than others.